Remember Sparrow? We introduced it to you not long ago, right here. In short, it's Sensix's brand new ambient temperature and relative humidity pilot product. Now it's time to talk about designing Sparrow - enclosure, and PCB. 
The most complex and challenging part of this project was to figure out a reliable way to build limited series custom enclosures, as we didn't find an enclosure on the market, one to support a small enough volume but still allow us to reliably pack it with the features it needs. This will also help us with future projects. So Sparrow is helping us figure out ways to affordably build enclosures from our 3D models. Yay for Sparrow and yay for us!
Sparrow is a temperature and humidity sensor with a LoRA radio. This means two things: first, it needs to be open to the environment in order to sample it, and second, the radio and antenna need to go well together. Power requirements for this device are modest, with LoRA having quite small TX power requirements, but this is not the full story. Ideally, the device would pack in enough power to make it last for a long time without changing batteries, but at the same time, the device volume needs to be small. For this, we settled on a CR2032 coin cell battery and some aggressive power-saving firmware details. The antenna was another compromise; ideally, you would place an 8-9 centimeter wire as the antenna, but we needed something more compact so we settled on a chip antenna to do the job. This means that we have a requirement for how the PCB should be shaped. On the one hand, the device is supposed to be circular, a "dot" on the wall, but on the other hand, the antenna needs to be placed on a flat edge of the PCB in order to make things work. The end result is a teardrop-like shape for the PCB. This may or may not be the best approach, but it does the job and minimizes the unknowns (we needed to get the device out the door in a very short period of time).
From the get go the enclosure was made of two parts, a cap, dome-like structure, and a wall, thus sandwiching the PCB. The width of the PCB creates a gap big enough to accommodate the two parts in order to allow for very good airflow and accurate measurements. The wall part of the enclosure also needs to be attached to an actual wall, and after a bit of consideration, we decided on an open back with just a screw key for the attachment. This comes from previous experience with a bigger device we deployed, where we needed two screws for wall mounting. Additionally, that device was square-ish so the whole thing needed to be installed leveled otherwise it looked bad. With a circular shape and a single wall mount screw, Sparrow is much easier to install now. Having an open back removed the need for a third component and provided easy access to the battery.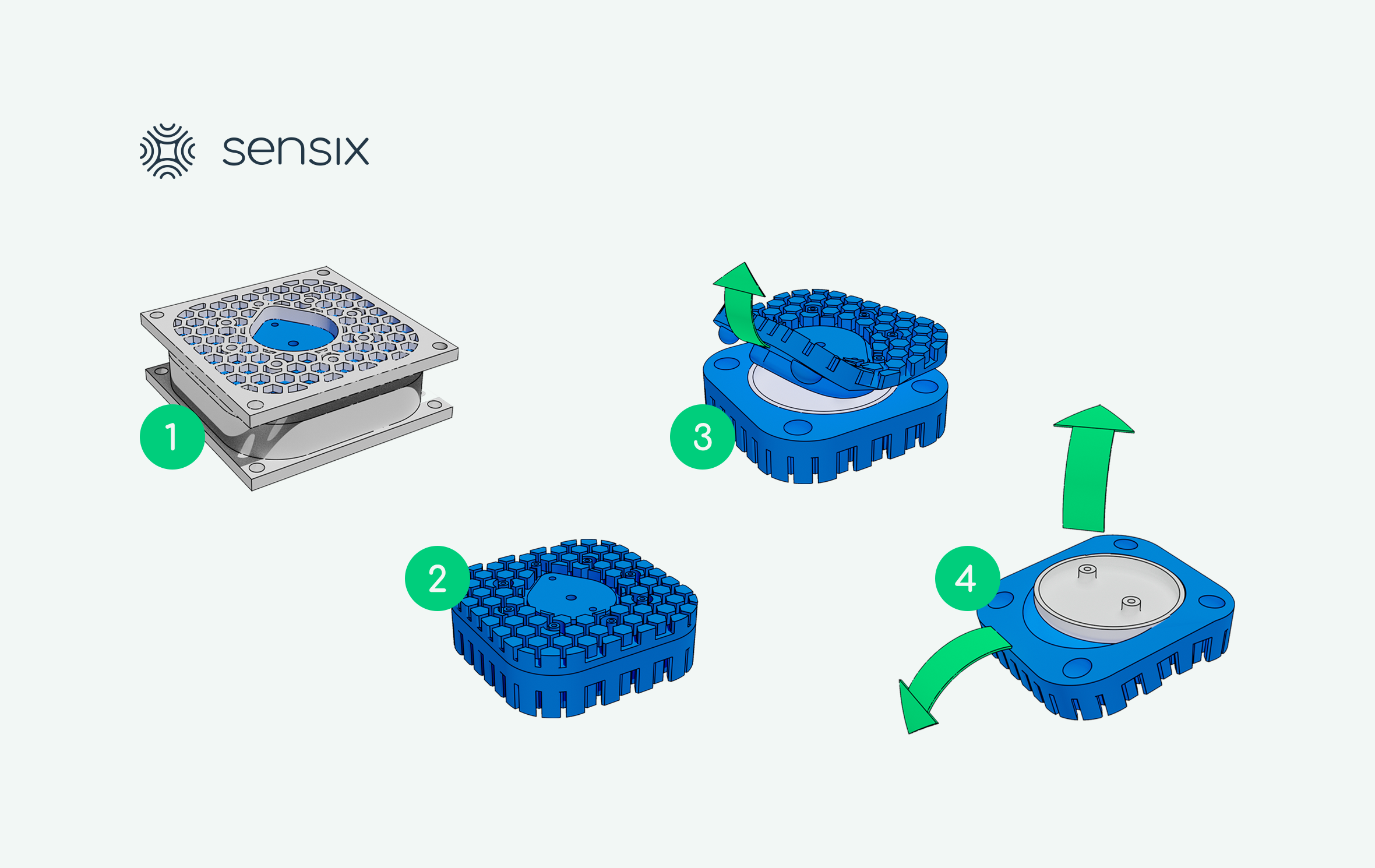 The enclosure was designed from the beginning to be resin cast, with 2 mm walls to allow for a wider range of resins and two screws to keep the assembly together. For the screws, we can either use brass inserts and machined M3 screws, or self-tapping screws and avoid the brass inserts. The same mold can be used for both approaches so we are free to experiment and find out which one is suitable for the assembly line.
Crafting the molds for the enclosure was a bit tricky, but with the help of our CNC and pressure pot, we got a reliable way of making many enclosures at once. This was needed because this device is most likely ordered in batches, and we can assemble the electronics very fast in order to quickly fulfill orders without too much lead time and avoid having to manufacture in advance.
All in all, we got the device designed and a prototype run (sadly without cast enclosures…yet) in about five-six weeks. The next thing for Sparrow will be to experiment with different PCB shapes, and understand what is the impact on the antenna, perhaps even try to coil a wire antenna inside the enclosure and further reduce the manufacturing costs. Switching from the current radio/MCU module is another thing to keep in mind, but for now, at least, with the current chip shortages impacting all the major distributors, what we have will do.
So far so good. We'll keep you (blog) posted!